〇KIX and ITAMI Win First Place In CIRIUM On-Time Performance Awards 2021
Kansai Airports is excited to announce that Kansai International Airport (KIX) and Osaka International Airport (ITAMI) took the top spot in the On-Time Performance Awards 2021 — a comprehensive ranking of on-time performance for the world's airlines and airports released by aviation data and analytics firm CIRIUM — in the medium and large airport categories, respectively.

This remarkable achievement of the two airports winning the awards at the same time reflects the efforts of the airlines operating at KIX and ITAMI who strive to achieve a high level of ontime performance in their day-to-day operations as well as the successful implementation of our Fast Travel initiatives.
Kansai Airports Group remains committed to working closely with stakeholders in a bid to improve on-time performance and thereby provide a comfortable travel environment for all passengers.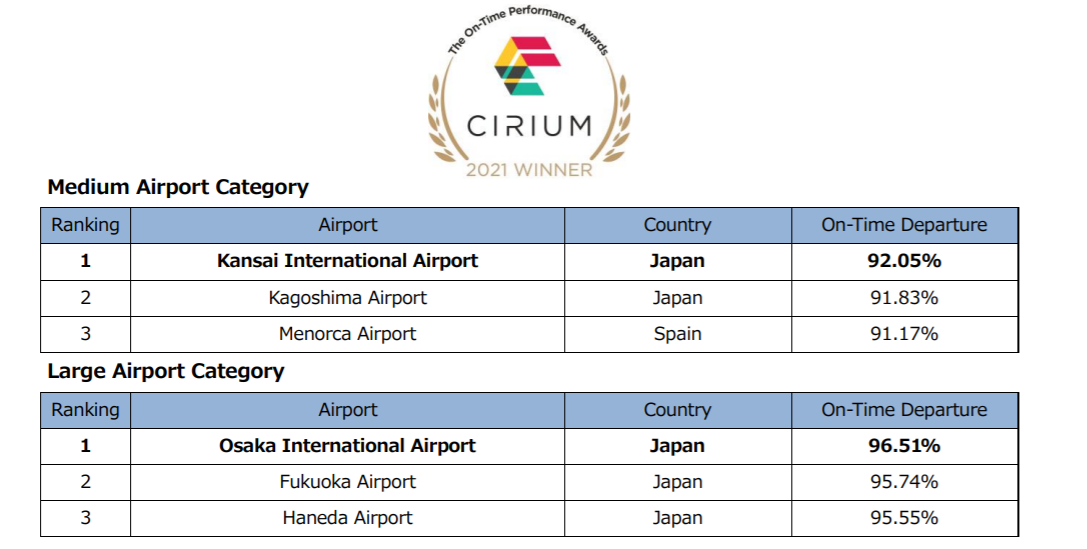 * On-Time Departure: The percentage of completed flights that departed the gate on time. "On-time" is defined as within 15 minutes of the scheduled gate departure time. The on-time departure ranking is used to determine the top performing airports.
CIRIUM is an aviation data and analytics company that contributes to accelerating the industry's digital transformation by bringing the industry's most accurate and comprehensive data sets. It provides data intelligence on the world's airlines' realtime flight status, flight schedule, fleet, and aircraft valuation which are referenced and cited by various media outlets around the world. (https://www.cirium.com )
Outline of the On-Time Performance Awards 2021
The global standard for on-time performance of airlines and airports. It evaluates airlines for their on-time arrivals and airports for their on-time departures. The on-time performance is normally measured throughout a year during the January to December timeframe, but the measurement period for the 2021 review is from June to December when traffic started to recover. Airports are categorized into four groups — global, large, medium, and small — based on the percentage of total flights operated and other factors.