Beef or Reef? Sunny Coast Travellers Can Now Experience the Best of Both Worlds as Direct Flights to Rockhampton and the Capricorn Coast/Southern Great Barrier Reef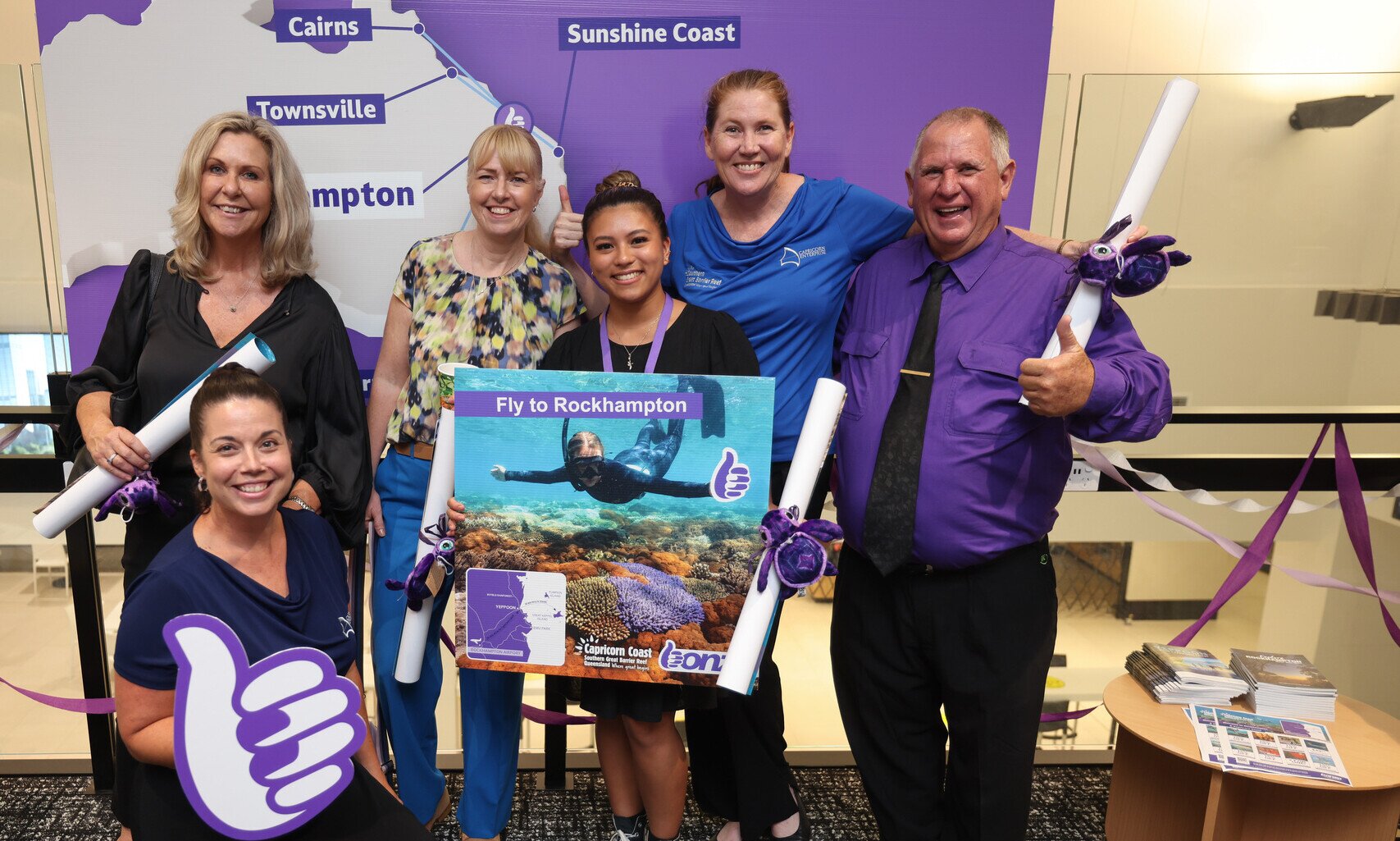 Regional travellers have even more travel choices as of today with Australia's newest low cost carrier yesterday evening launching their inaugural flights from their home on the Sunshine Coast to Rockhampton and the Capricorn Coast / Southern Great Barrier Reef with flights already proving popular.
Sunshine Coast Airport CEO, Andrew Brodie said this flight will have a major impact on local regions, making air travel affordable and accessible and increasing the passenger numbers arriving into the Sunshine Coast.
This direct route is a first between the two regions and is a major milestone with more than 62,000 seats between the two destinations.
"Rockhampton and the Capricorn Coast is a highly sought after holiday destination from people all over Australia as not only is it Australia's beef capital it is also the gateway to the beautiful Great Barrier Reef, with access to islands like Great Keppel Island and Pumpkin Island right on their doorstep.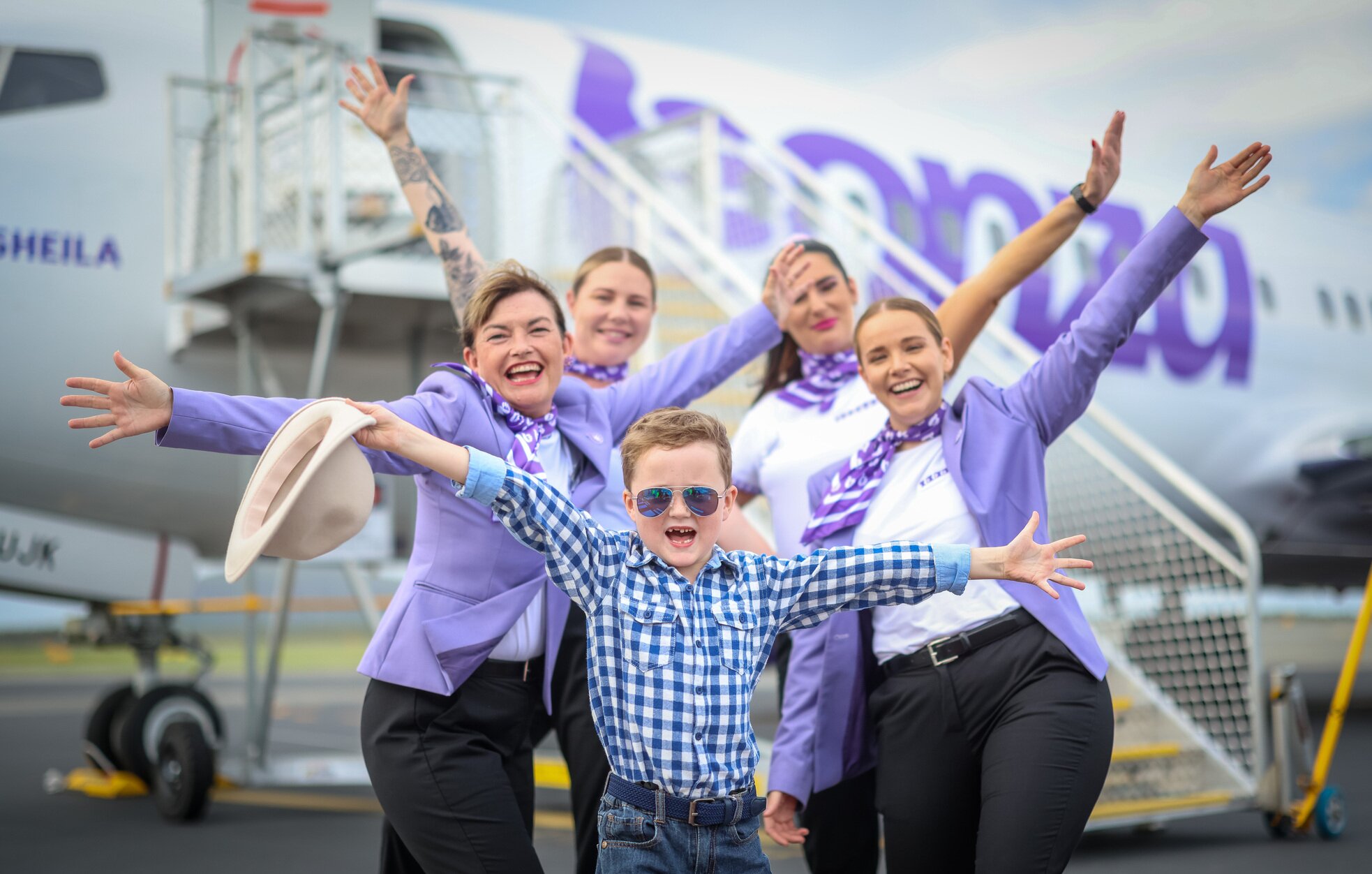 "Similarly, the Sunshine Coast is high on the list of travel destinations for people from Rockhampton as they visit family or friends, holiday, or even need to have specialist medical appointments.
"These regional routes are providing travellers with greater choice and access to services they have never experienced before and for many it's life-changing. The fact that passengers can take a flight directly to the Sunshine Coast from Rockhampton, without the added cost or travel time of having to go to Brisbane first, means more people are likely to travel.
"What is nearly a seven hour road trip can now be done in just over an hour and for many travellers this will mean that the tyranny of distance, which up until now has prevented them from regularly seeing loved ones, is no longer an impediment to travel.
"Together with my team, we have been on all of these first flights so far and what we are hearing from passengers, without exception, is that these flights are connecting families who, because of time or cost, could not see each other regularly. Without doubt, these new routes are connecting people with the moments that matter most," Mr Brodie said.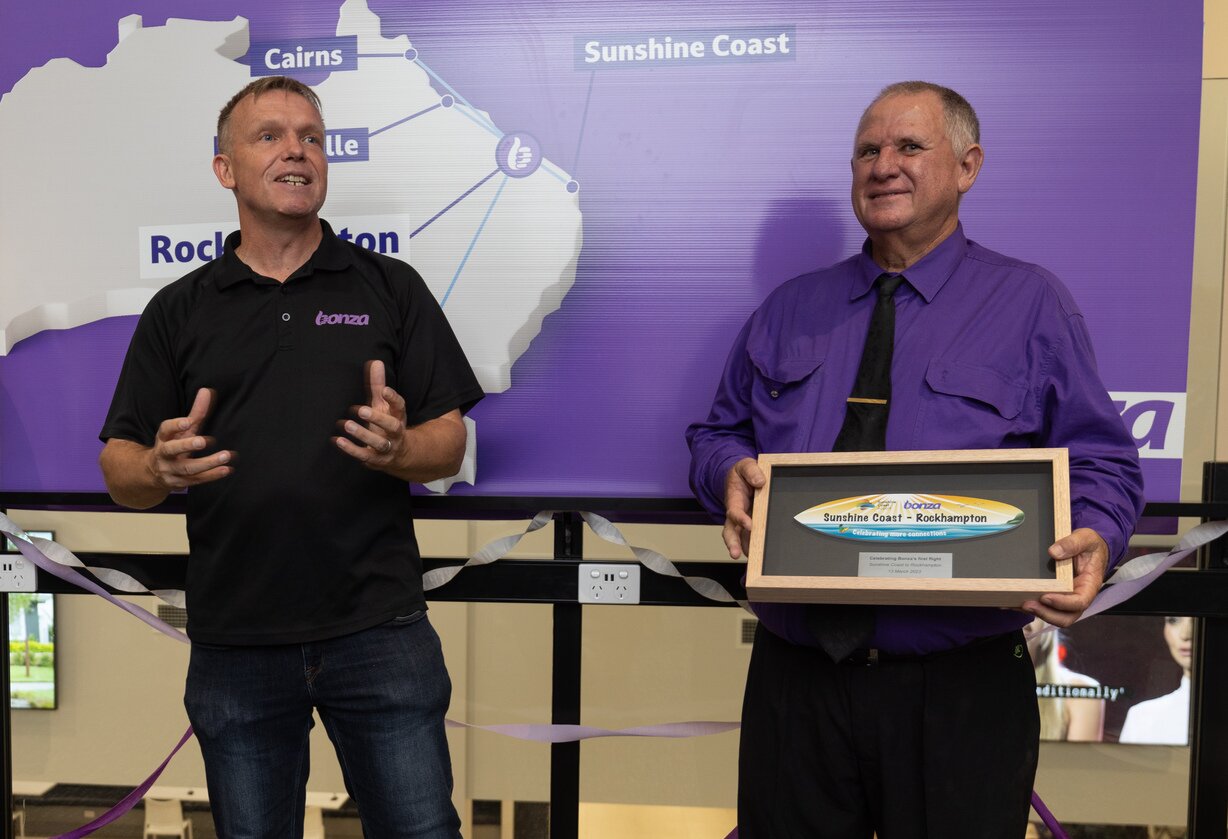 Also, traveling on each of the first flights, Bonza CEO, Tim Jordan said, "Bonza is here to change travelling behaviours by making air travel affordable to the many, not the few. Rocky and Sunny Coast residents can now ditch the impossibly long drive along the Bruce Highway with a faster, more comfortable and low-cost option.
"I was lucky enough to meet a grandmother on the Townsville to Rocky flight who told me she paid more for her cab ride to the airport than she did for her flight. There are plenty of families in Rockhampton and the Sunshine Coast looking to reconnect more often, and we're humbled to help."
The first inaugural flight between the Sunshine Coast and Rockhampton and is one of 13 destinations Bonza will service from their home base on the Sunshine Coast.
With Bonza anticipated to bring an additional 772,000 seats to the Sunshine Coast and generate an estimated $86million in domestic visitor spend in the first 12 months, bringing the Airport Master Plan 2040 to life is a priority for Mr Brodie.
"We are embarking on a period of significant growth and change which will benefit all of SE Qld and we are only just getting started. The first stage was completed in June 2020 when we opened the new longer and wider runway and over the coming years our domestic terminal will double in size, there will be an expansion of the Aerospace Precinct and our Southern Gateway will start to take shape.
"In fact we will be investing up to $1B in infrastructure which will have a significant impact on the regional economy. We will create jobs, attract investment and support the 2032 Olympic and Paralympic Games. We are building a legacy for generations to come and the Sunshine Coast Airport will play a pivotal role in firmly putting the Sunshine Coast on the map as a destination for business and pleasure.
"Our partnership with Bonza is an important milestone in our long term plans for Sunshine Coast Airport which will see us welcome greater volumes of travellers, opening up opportunities not previously available.
"We cannot wait to welcome visitors from across Australia traveling on these brand new routes," Mr Brodie said.