Bahrain Airport Company Welcomes Regional Head of World's Leading Aviation Body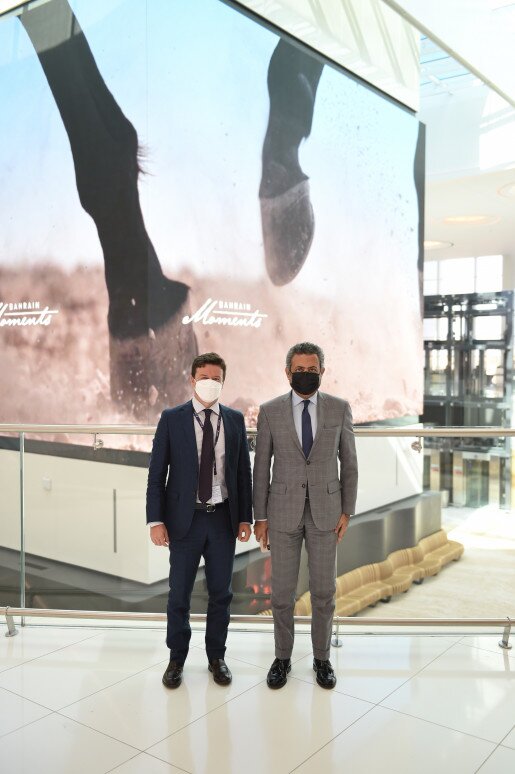 Bahrain Airport Company (BAC) welcomed Airports Council International (ACI) Director General - Asia-Pacific Stefano Baronci during his first official visit to the Kingdom. Bahrain is the first country Mr. Baronci has visited as part of the ACI Asia-Pacific Middle East International Airport Program, which aims to strengthen the voice of airports in the MENA region.
Following a tour of Bahrain International Airpot (BIA) with BAC Chief Executive Officer Mohamed Yousif Al Binfalah, Mr. Baronci will attend a series of meetings with senior Government officials from Bahrain's aviation and health sectors later this week to discuss the recovery of the aviation industry amidst the challenges of the COVID-19 pandemic. He will also attend a series of workshops with BAC senior Management and ACI Asia-Pacific representatives to discuss topics related to health, safety, security, and the environment.
Al Binfalah said: "We are delighted to welcome Mr. Baronci to Bahrain and showcase the recent developments at Bahrain International Airport, including the new passenger terminal. As a proud member of the ACI Asia-Pacific region, we are keen to share our insight with other airports and contribute through engagement and advocacy to the recovery of the aviation industry. ACI provides a valuable platform for exchanging knowledge and best practices that are crucial to our industry's development. We look forward to greater levels of collaboration and working alongside other member airports to restore confidence in the travel industry."
Mr. Baronci said: "It is a pleasure to visit the Kingdom of Bahrain and see its aviation advancements first-hand. This visit reflects our commitment to strengthening ACI Asia-Pacific's relationships with its Middle East Members. I look forward to meeting with officials from Bahrain's aviation and health sectors to explore new areas of cooperation with ACI Asia-Pacific. Working together, I am confident we can help to restore the joy of travel and support the continued recovery of the global aviation industry."
ACI represents the world's airports and their collective interests. It promotes professional excellence in airport management and operations, and works closely with prominent aviation organizations such as the International Civil Aviation Organization and the International Air Transport Association to develop standards, policies, and recommended practices.