Auckland Airport's Premium Outlet Centre Mānawa Bay Starts to Take Shape; Here's a Bird's-eye-view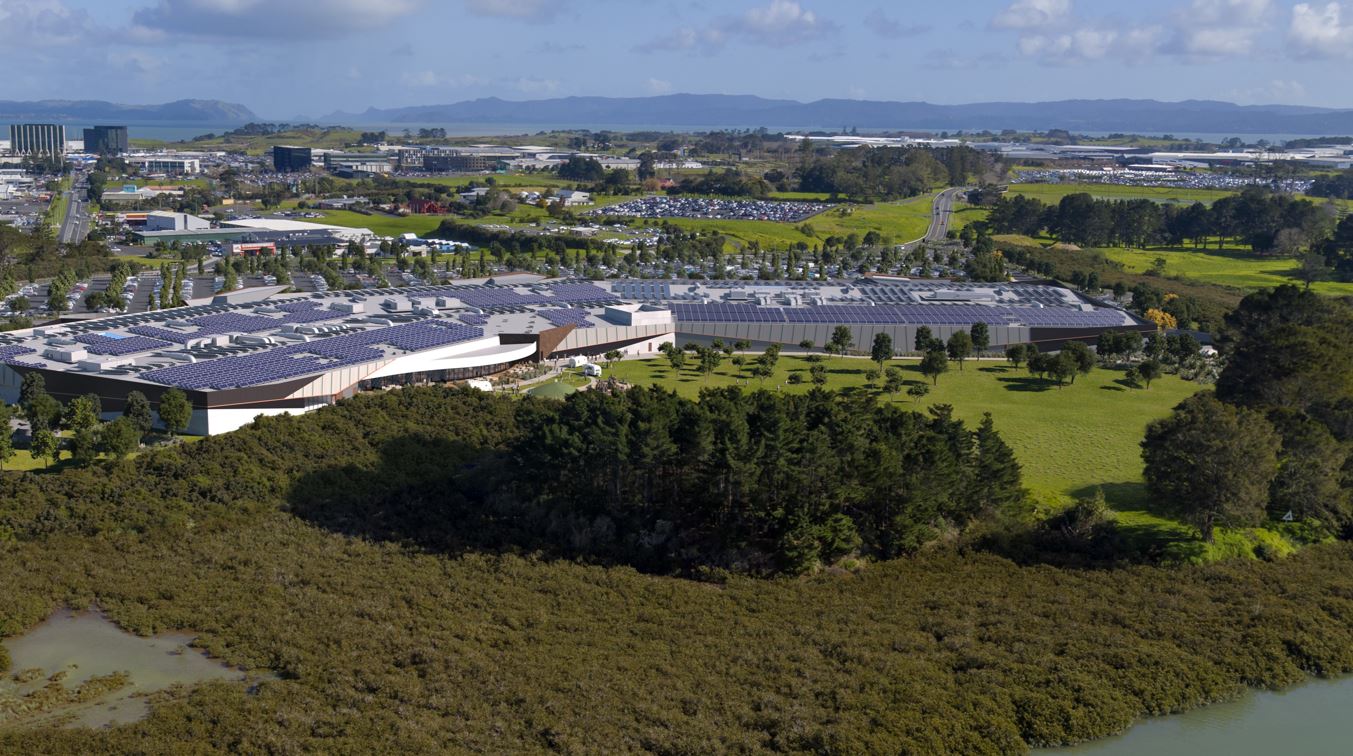 Major construction has started on Auckland Airport's $200-million-plus premium outlet centre Mānawa Bay, and a flyover video offers a first glimpse of what to expect when it opens for shopping and dining.
The build phase of the fashion-led retail destination is now underway with the appointment of Savory Construction as the lead contractor for delivering the building, carpark and surrounding landscaping.
The project will support 500 to 600 jobs during the construction phase, with an estimated 1,100 retail and hospitality jobs created once the centre is open and fully operating.
"We're incredibly excited to start building Mānawa Bay and the unique experience it's going to offer Aucklanders and other visitors to the airport when it opens late-2024," said Auckland Airport's Chief Commercial Officer Mark Thomson.
"Savory Construction is high quality construction partner with deep experience across industrial and retail developments, and we're delighted to be working together on this landmark project."
Targeted to be New Zealand's first 5 Green Star retail centre, Mānawa Bay has committed to sustainability initiatives throughout the build including; optimising resources, reducing carbon emissions, enhancing the environment and supporting local communities.
Auckland Airport has recently announced Mānawa Bay will support what's expected to be the largest rooftop solar system in New Zealand on top of the 35,000m2 building. At 2.3-megawatts, the solar array is planned to support more than 80 per cent of the 100-store centre's anticipated power usage.
This represents Auckland Airport's first steps to generate onsite renewable energy, with a rooftop solar system also planned for atop the $300 million-plus Transport Hub, under construction opposite the international terminal.
"Auckland Airport is committed to tackling climate change and these are exciting and important steps towards us reaching our 2030 net zero carbon goal."
This flyover video reveals a first look within the purpose-built, outlet shopping destination that will bring together fashion, athleisure, lifestyle and homeware brands under the one roof, offering great discounts to shoppers.
"While it's outlet shopping, the high standard of amenities and finishes may surprise," Mr Thomson said.
Mānawa Bay will make the most of its water-facing location and embrace large, light-filled open spaces in the dining area, and an easy to navigate figure-of-eight layout for the centre, reflecting the concept of flight and air.
The park-like setting overlooking the mangroves ('Mānawa' is one of the words for mangroves in te reo Māori) brought to life in the flyover video that demonstrates how the central food and beverage area freely flows to alfresco dining and nature-inspired play spaces.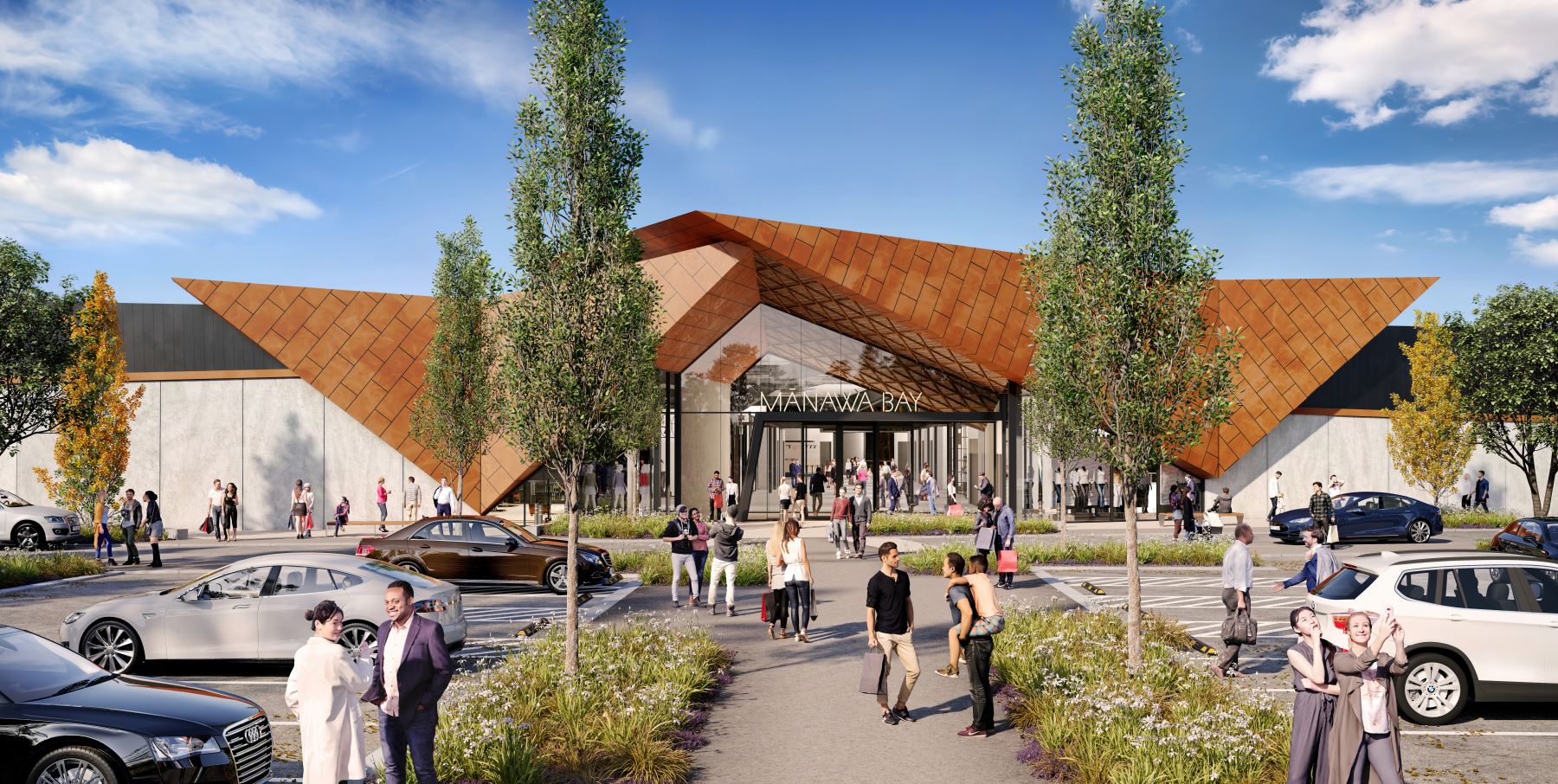 "With plenty of indoor plants and greenery and detailed feature ceilings, this is not your typical food court environment.
"We've listened and gathered feedback from prospective shoppers to inform our designs and we're creating a contemporary, welcoming space that our visitors will love. Outlet shopping is all about discovery and this flyover shows people relaxed, connected and enjoying their surroundings."
Last year Auckland Airport broke ground on the 150,000m2 site in the north-east of the airport precinct. Site works are currently focused on constructing the foundations of the building and putting structural steel into place. Meanwhile, the design team lead by TRCB Architects have been focusing on the final touches to the design.
"We're now in an exciting phase of development where Mānawa Bay is truly out of the ground and taking shape."
Savory Construction General Manager Sam Lomax said Savory is proud to be working on what's being looked to as one of the leading outlet centres in Australasia.
"With its unrivalled location and inspired indoor and outdoor spaces for visitors to explore, Mānawa Bay will set a new standard for premium outlet shopping and we are thrilled to help deliver this exciting, go-to retail destination," Mr Lomax said.
Transport was a central consideration in design and Mānawa Bay is conveniently located on a main arterial route, with access to public transport options.
Leasing for Mānawa Bay continues to have positive momentum with strong interest from both local and international brands for the 100-plus retail and 13 food and beverage tenancies on offer.
Notes:
Mānawa Bay and the Transport Hub combined are expected to generate enough solar energy to power 634 houses per year and avoid approximately 588 tonnes CO2-e emissions per year – equivalent to a Toyota Corolla driving the length of New Zealand 1,865 times.

More information: manawabay.co.nz